You should all know by now that I basically live at Salvation Army. So it should be no surprise to you that I stalked these chairs, 5 of them to be exact-until they were marked down to my favorite percentage off—yes 75% off! I paid $30 buckaroos, for 5 vintage cane chairs.

Did I need 5 vintage cane chairs? No. But I wanted two of them, so I craigslisted the other 3. It's so funny how those with creative minds can see far beyond, the ugly, the dirty, the sometimes wobbly or GREEN items at these thrift stores-I think that other people just couldn't get past the green on these chairs!
Uh, Hello!!! The 70's called and they want there neon green fabric back!
Ugh! I know!

I've seen lots of these chairs pop up over blog land. I had originally planned on painting these–my fav Almond Cream Behr paint, but after googling vintage cane chairs, I found lots of different variations for finishes.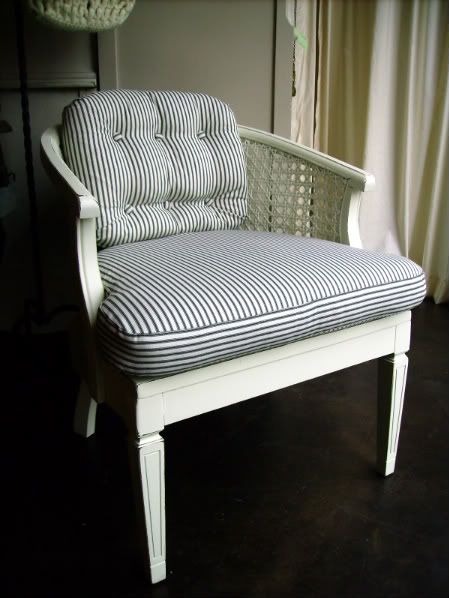 credit: Alchemy Fine Living—Really loving the white!
credit: apartment therapy-Loving the red and black too!
credit: Small Burst
But, I ultimately decided to keep them au naturale (or with their original finish). I also just recovered the cushion with left over drop cloth from this chair redo.
Now I've created a small conversation area in my living room. Please ignore my window treatments(I'm trying to make sense of this area right now, lol). Check out my table though, (it was a roadside treasure! it's old and faded and the finish is peeling and I love it!)
Shall we call this fading and peeling patina?, yes we shall . . .
It's leather topped with a beautiful design . . .
So, What do you think? should I paint them or keep them the way that they are?