Hi Friends, if you follow me on Instagram you may remember me complaining about how bad I am at choosing rugs (and window treatments, for that matter). There's just something about them that seem so, so . . . permanent. So, when it came to choosing a rug for my master bedroom refresh, it was no different.
I ordered this rug from Target before Project: #1room30days began.
I tried it out and it didn't take long for me to realize that I didn't love it.
The pattern was a little too busy for the look I was going for, and seemed a little more formal than I had hoped for.
Rug #2: Woven rug from Target:

I loved the color and texture of this rug, but quickly realized that it wasn't going to work. It was a 5×7 and I needed at least a 6×9 to fit under my queen bed. I searched online, and unfortunately they don't carry this particular rug in a larger size, such a bummer!
Rug #3: Martha Stewart Jute Fringe Runner
At this point I got desperate! After having searched Home Depot, Target, Walmart, and Tj Maxx, I wandered into Homegoods and picked up 2 small, fringed, jute runners to place on either side of the bed.
I liked this look a lot, the color and texture was perfect and it gave the room a more relaxed feel. But, I got kinda used to the idea of having a large rug to anchor the bed.
Rug #4: Nuloom Handmade Eco Natural Fiber Chunky Loop Jute Rug
I ultimately decided to order a larger version of the jute rug, and was able to get a pretty good deal. WooHoo! I ordered it from Overstock and received it in 2 days!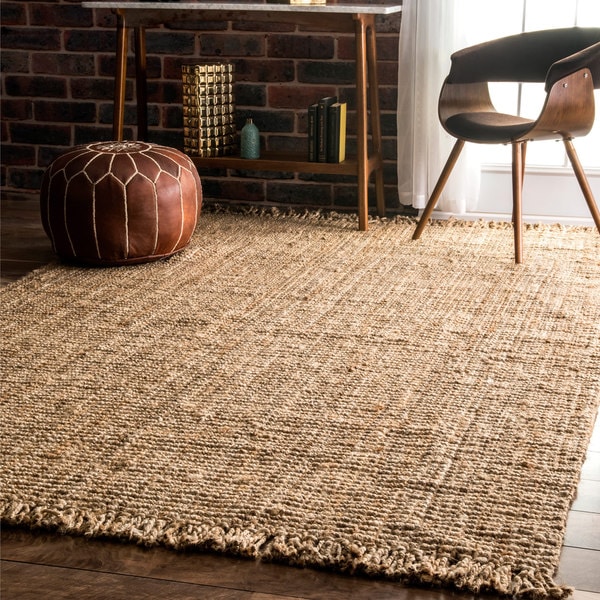 In addition to finally choosing a rug, in the past week I was able to paint my closet doors, put up new shades, paint my nightstands, and makeover my hubby's lamp! I feel like I've made pretty good progress so far!
Still to Do:
Gallery wall and other wall art
Accessorize
Decide on baskets for storage
Decide on mirror above dresser
Lightly organize drawers and closet
Here are the links to the previous weeks:
Stay tuned for the final reveal and more projects and diys from my master bedroom refresh. You can also check out mine and my fellow participants' progress on Instagram, just by search the hashtag: #1room30days
Until next time!Carli
SHOP THIS POST: