This post is sponsored by Wayfair. As always, all expressed opinions are 100% mine.
Hey guys!! Can you believe we are halfway through the year already? The 4th of July is upon us and if you're anything like me, you're probably looking for a quick last minute dessert to serve or take along to that 4th of July cookout (that doesn't look like an afterthought)—-I've got just the thing for you! Today I'm sharing a recipe for an easy, festive red, white and blue dessert to serve for your Fourth of July festivities!
Can I let you in on a little secret??? I am a SUCKER for food on a stick! Gets me every time! There's just something about the presentation–it somehow makes food seem that much more special!
One of my favorite things to serve when entertaining, is fruit skewers. They can be served as hors d'oeuvres with little blocks of cheese and grapes, or a dessert, like these adorable berry skewers with 2 creme dip options, which I'm sharing with you today.
These skewers can be served several ways:
They can be served on a crisp white cake stand to really enhance the beautiful blue and red hues, paired with a dip on the side, . . .
They can be served individually with a creme dip drizzle.
They can also be presented atop your favorite sponge or angel food cake—to make a berry shortcake that's sure to impress even the fussiest guests!
Either way, you're sure to find the perfect serveware from Wayfair's 4th of July selection!
Here are a few of my favorite options for serving fruit skewers for beautiful and festive patriotic entertaining: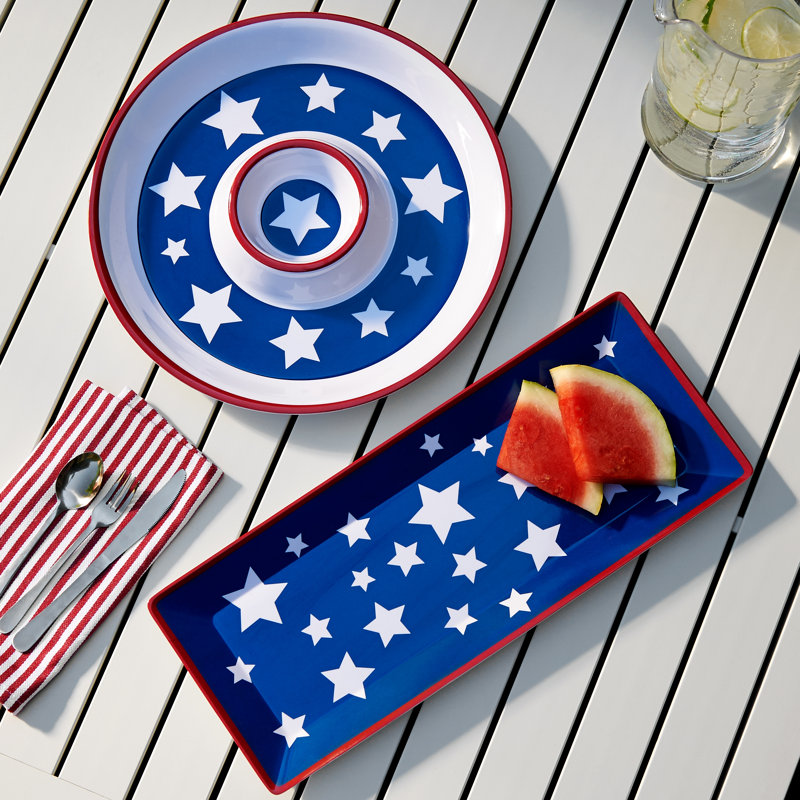 If you like to go all out for the Fourth of July, this festive 2-piece set will definitely help to set the tone.
Red, White and Blueberry Skewers with 2 Dip options:
Mini Berry Skewers

Ingredients
1/2 pint fresh blueberries
1/2 pint strawberries (medium sized work best)
Instructions:
Rinse berries and pat dry. Remove stems from strawberries by slicing a "V" shaped notch into the tops of the strawberries (this makes a perfect heart shape—yes, stars would have been more ideal, but ya gotta stick with your skill level, right?). Slice strawberries in half lengthwise. Slide two fat blueberries onto a skewer, then slide 1 half of a strawberry heart onto the skewer. Top the strawberry heart with two more berries. Admire your work. This is totally something you can solicit the kids help for.
Honey Chevre Greek Yogurt Dip (Pictured)Serves 6
Ingredients
2oz of Honey Chevre (goat cheese) softened or at room temperature
1/2 cup Cabot low fat Vanilla Greek Yogurt
3/4 whipped topping
Honey (optional)
Instructions
Soften vacuum sealed Chevre log in a bowl of warm water or place in microwave safe bowl for 10-15 seconds, stopping at 5-second intervals to ensure it doesn't overcook. Combine all ingredients until mixed well. Drizzle some sweet honey on top of fruit or drizzle on top of the dip for an added layer of flavor.
Vanilla Ricotta Creme (for those who aren't fans of goat cheese, Gasp!) Serves 6
Ingredients
3/4 cup part skim ricotta
1 cup whipped topping, chilled
2 teaspoons of vanilla extract
Instructions
Add the ricotta and vanilla extract to a medium bowl. Using a hand mixer, whip the ricotta and vanilla until slightly smooth. Fold in the whipped topping and sugar until all ingredients are combined. Let chill until ready to serve.
To pipe the creme dip, simply spoon the dip into a sandwich baggie, snip a small piece off of one of the bottom corners using sharp scissors, and slowly squeeze the contents out.
This makes it so much easier to create cute little decorative touches, if desired. Keep fruit and dip chilled until ready to serve.
I hope you'll enjoy these recipes! Have a wonderful and safe 4th of July!