I am so happy to have partnered with Raymour & Flanigan and received product in exchange for this post. As always, all expressed opinions are 100% my own.
Boy have we had a whirlwind of a month! I've been a little M.I.A for the past few weeks as we've been very busy prepping to sell our home. Whaaaat? You maybe thinking—-if you don't follow along in IG. Yes, we fell in love with a home which sort of rushed our decision to put our home on the market. And after our first showing, we got a full price offer! I'm still in shock—but that's a blog post for another day! Before all of this excitement came into play, I was lucky enough to team up with my friends over at Raymour & Flanigan for a master bedroom update!
As you may remember back in November they helped me create my cozy basement family room just in time for the holidays, well this time, this update came just in time for Spring!
Last year, I worked on a small master bedroom refresh, but you may recall that I was not very thrilled with our furniture because it was too dark, it didn't match my style anymore and most importantly–it didn't provide us with the storage that we so desperately needed.
So finding furniture that offered a lot of storage was on the top of my to-do list! And although I had done my research prior to shopping day, I was still overwhelmed by Raymour and Flanigan's selection. We went back and forth with a few different combinations and finally, happily settled on this equation to create a simple and sophisticated master bedroom retreat :
A super patient sales associate + The bed of my dreams + A pretty rug X (some unique customization and coordination) =Awesomeness!
MY DREAM BED
I already had my eye on the Kari Queen bed from my November visit to the showroom, but when our sales associate suggested custom upholstery—it sealed the deal! This bed is so sleek and sophisticated, with its clean lines and tufted headboard upholstery.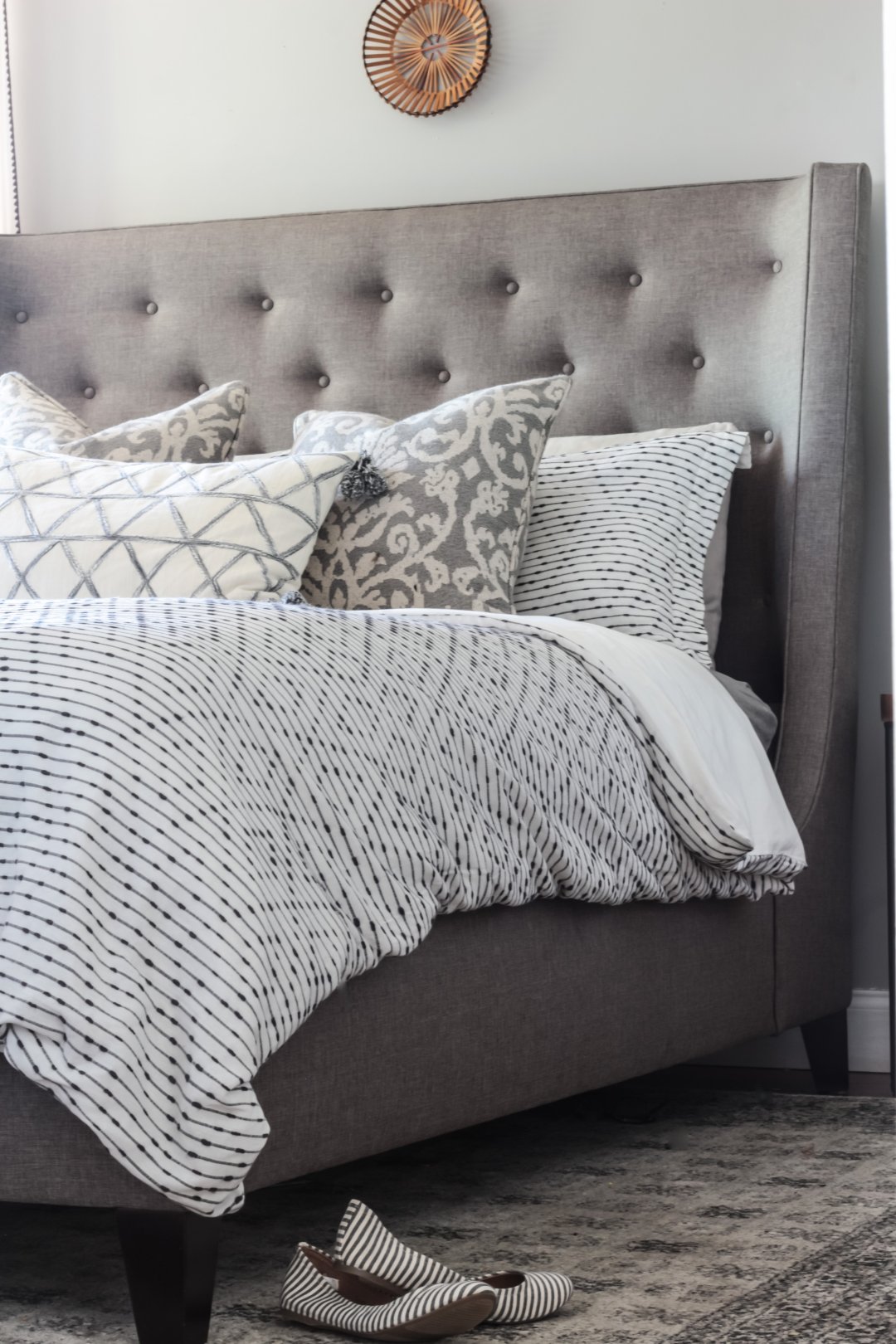 I love Raymour & Flanigan because they offer super fast 3-day delivery—there's nothing worse than anticipating the arrival of your new furniture and having to wait a week or more! (I should note, however, that custom orders can take anywhere between 6 and 8 weeks.) I was so spoiled by the normal fast delivery, that waiting for my bed to arrive felt like forever! But to be honest—-it was TOTALLY worth the wait, I mean . . . look how gorgeous it is!!!
The fabric for the bed frame coordinated perfectly with the Pembroke Area Rug that we loved from our very first trip to the showroom.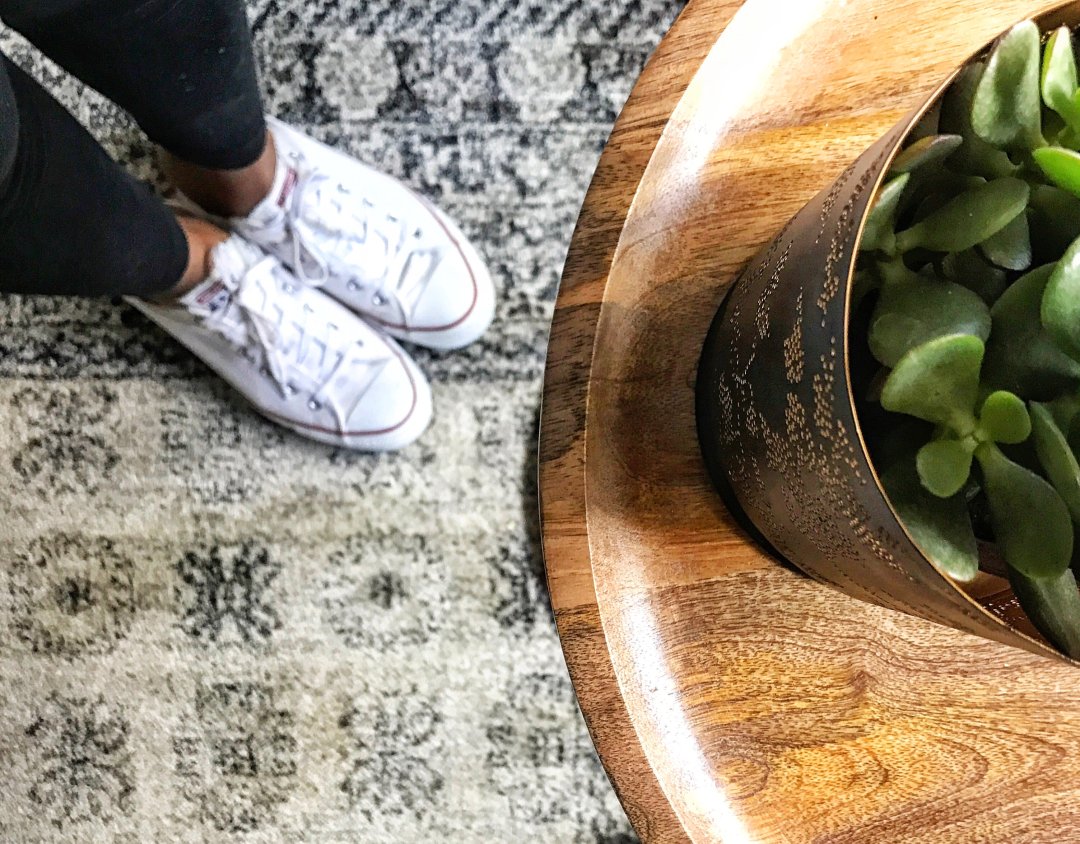 STORAGE FURNITURE
The pieces that were of the utmost importance to us, were the hardest to decide on, and believe it or not, at the very last minute, we changed our mind . . .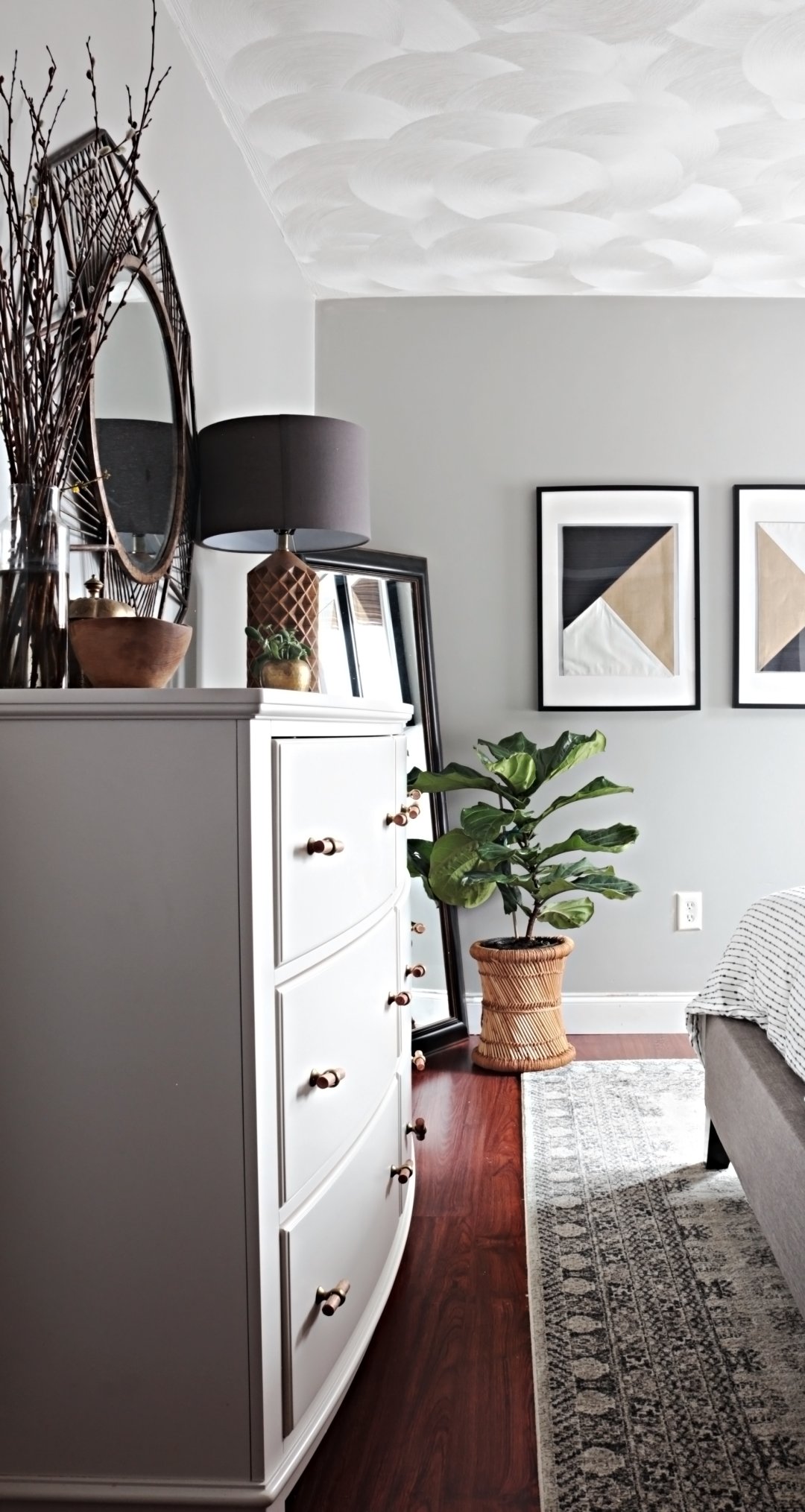 We had originally planned on purchasing the Allisten dresser and chest, but I was worried that it would clash with our bedroom floors (it totally would have!). We ultimately decided on the Kylie dresser and Chifforobe.
And boy am I glad we did—I really love these pieces because they have everything I was looking for–nice clean lines that allows me to teeter on the edge of transitional and a little modern, with large, deep drawers. I was able to fit three drawers worth of clothing from my old dresser into the new one!!!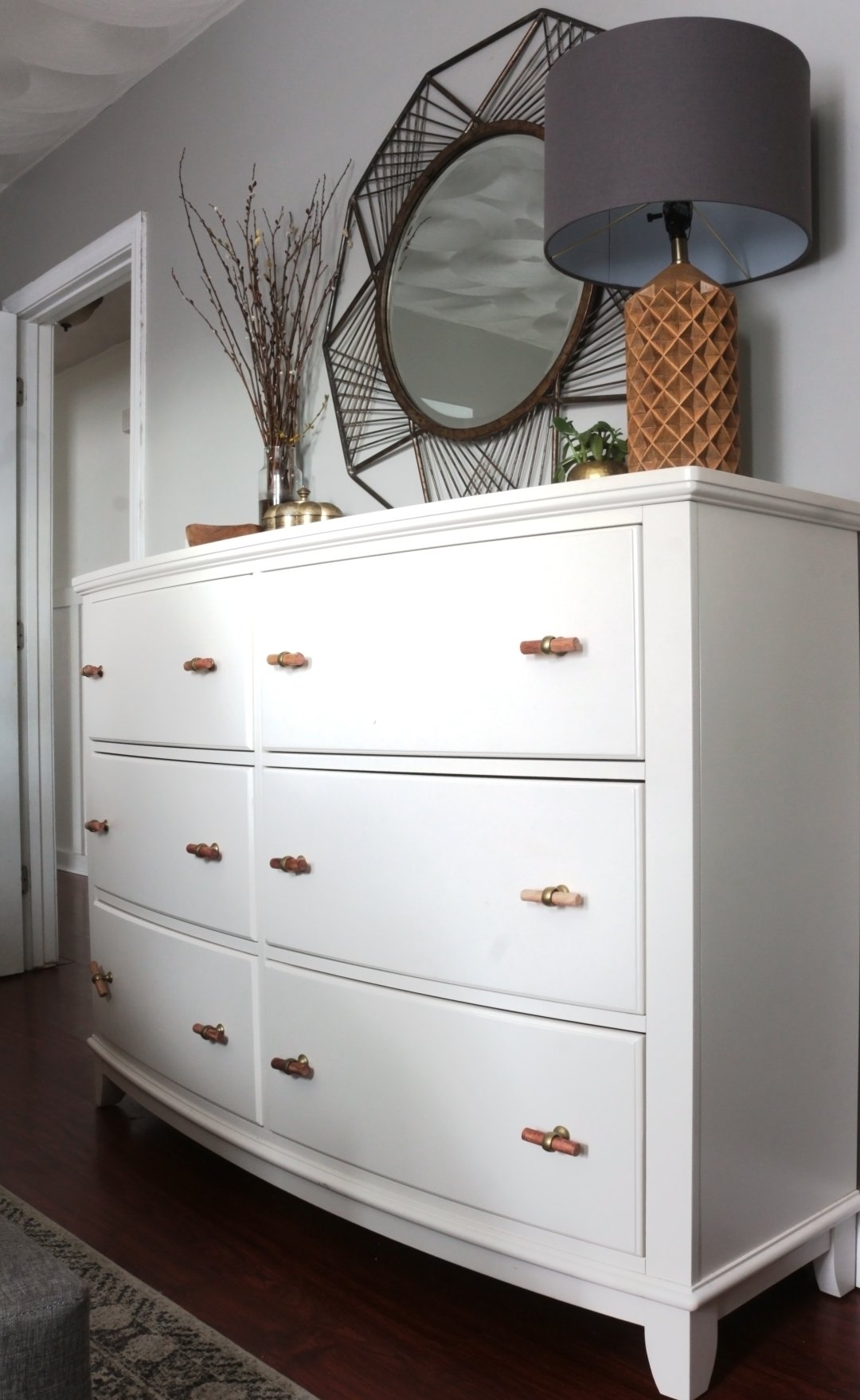 Let's chat about the Kylie Chifforobe for minute, shall we?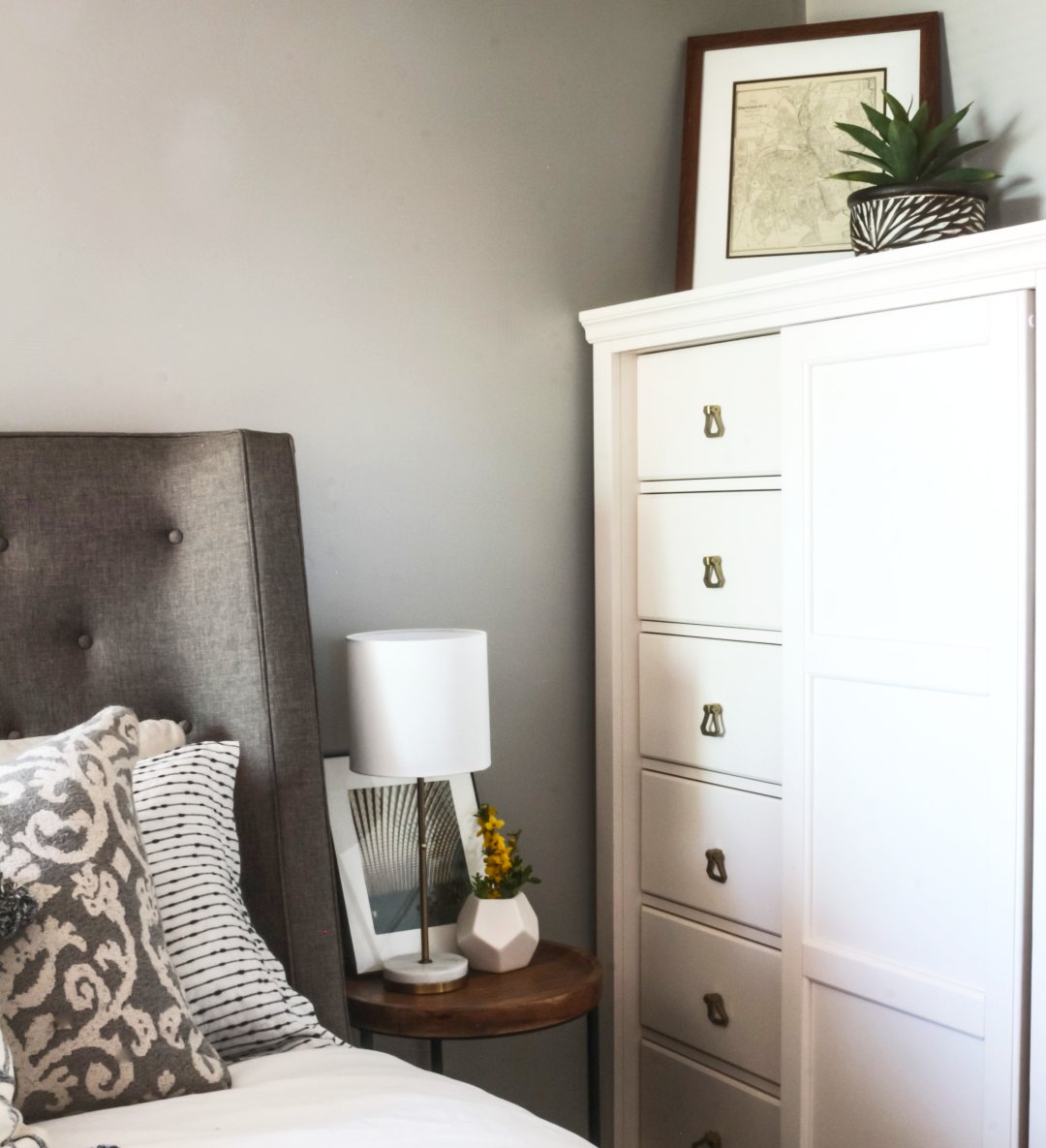 You may be thinking, "what is a chifforobe?"
chif·fo·robe
ˈSHifəˌrōb/

noun

US

a piece of furniture with drawers on one side and hanging space on the other.
Hahaha, sorry, I had to . . .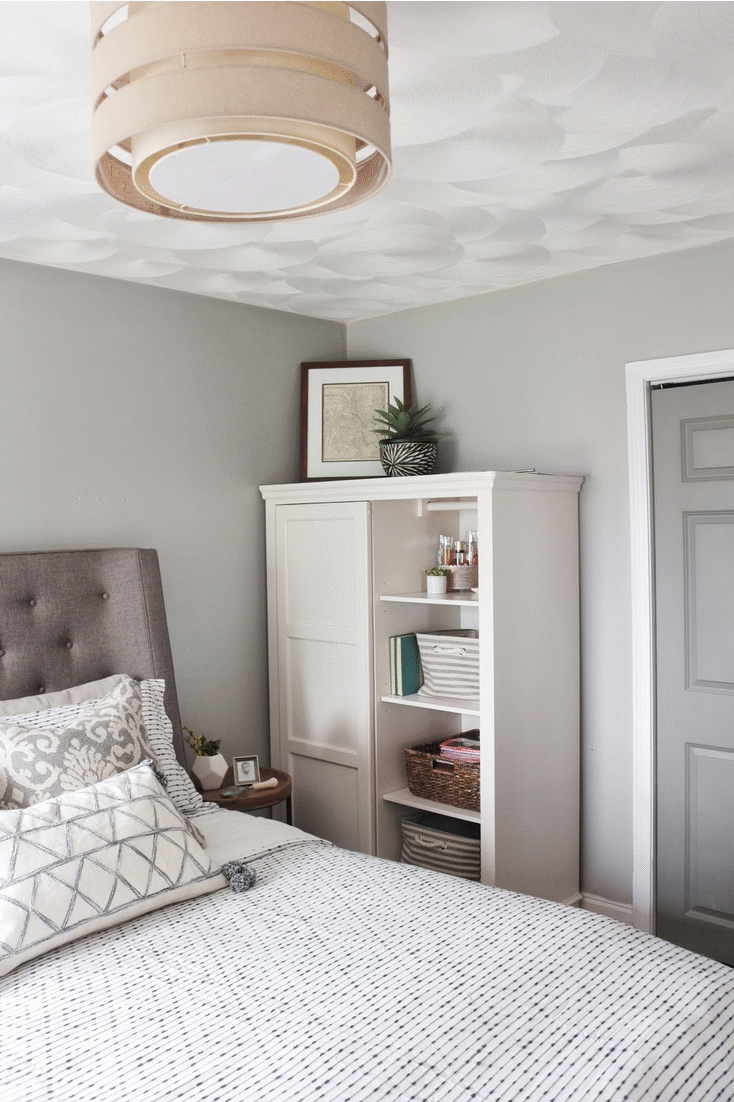 On the left side it offers six drawers for storage, and on the right you can either use its shelves for additional storage, or you can remove the shelves easily to add clothing on the bar provided. This piece is great and super functional for us. I also think it is a great option for a guest room!
Although I knew we were not going to use the clothing bar I left it there because it's also a great way to display jewelry!
The top shelf holds our toiletry items, cosmetics etc. and the bottom shelves hold baskets/bins to store bulkier items such as sweaters, jeans and my magazine collection.
Customizing My Furniture
It's funny because I often see the Kylie bedroom set being used in children's spaces, but it is definitely large enough to be used as adult furniture. I was also able to customize it a bit to really suit my personal decor style and taste.
I was able to find some inexpensive wood and brass drawer pulls to replace the nickel knobs that came with the set.
Changing out the drawer pulls really helps to customize your furnishings, allowing you to create a space that is uniquely yours!
I also found some coordinating hanging drawer pulls for the chifforobe, which really helped tie all of the brass elements together.
BEDDING
I chose a vaguely graphic print duvet in a light color, and snatched my Anastasia sofa pillows from the living room sofa since I had retired them for the spring.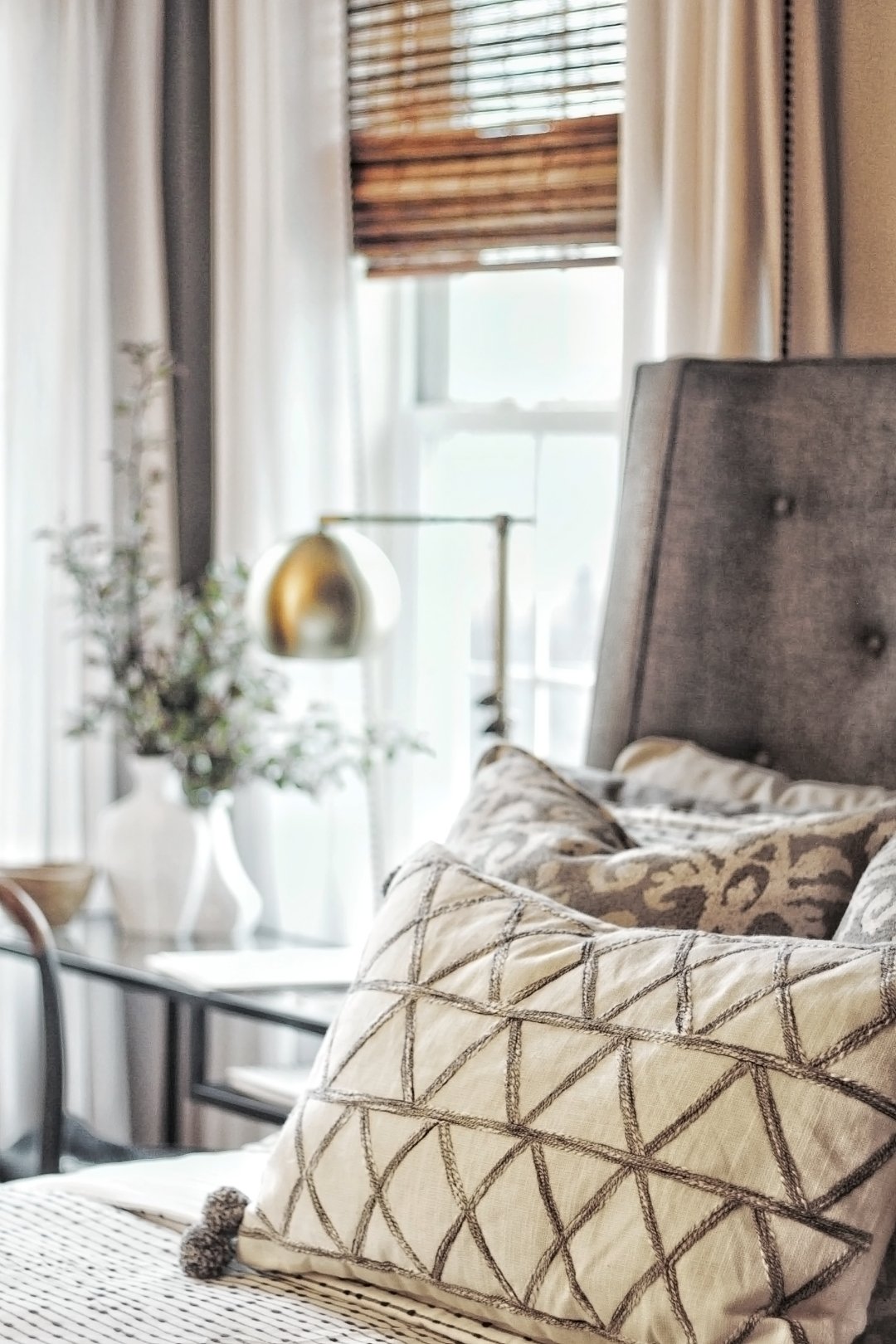 I also added a lumbar pillow with a geometrical print for interest. If you know me, you know that I love mixing patterns in my decor, however, I really wanted to keep the space simple and not overly decorated—I think I managed a good balance.
If I had to define my personal decor style, it would be really hard . . . I love a little bit of boho, some mid-mod, a little industrial, classic elements and tons of texture—so I needed my bedroom to reflect this. My style has definitely evolved over the years, but I find that I always come back to loving crisp clean white, paired with warm wood tones, and some sort of brass to modernize it a bit.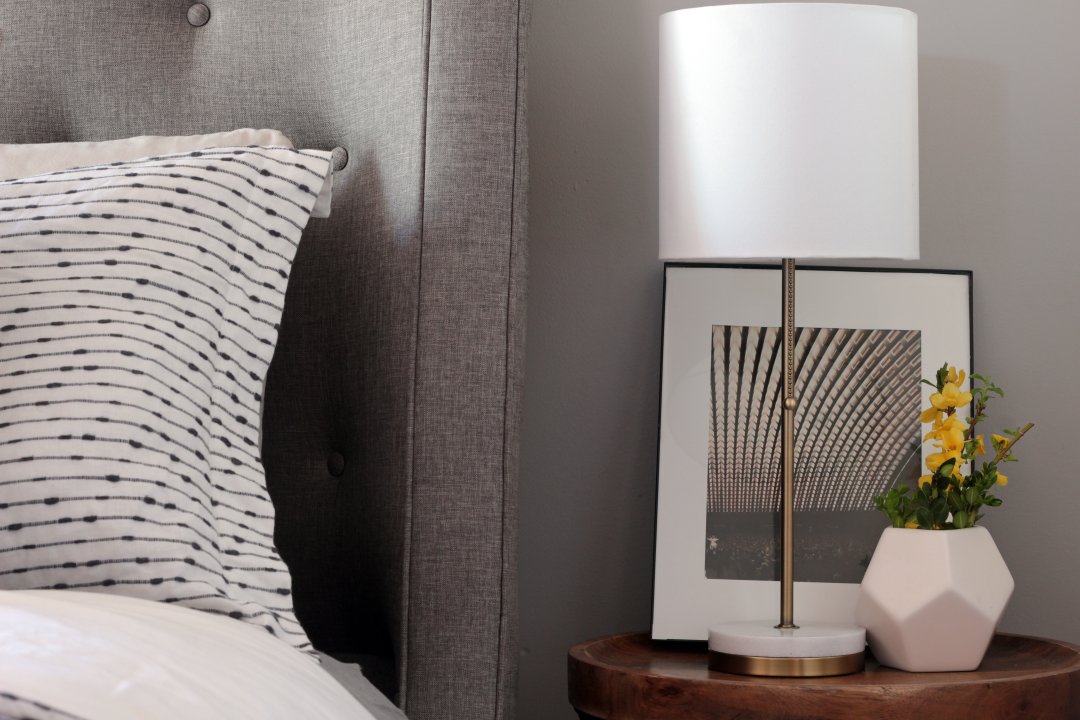 For night stands I chose a simple black metal framed desk (borrowed from my daughter's room) and an iron and wood round side table for my husband's side.
I snipped some branches from my crab apple tree, which are wonderful even before they blossom!
I also pulled in an extra bentwood dining chair from the kitchen which allows me a nice little area for late night blogging.
Lighting and Other Accessories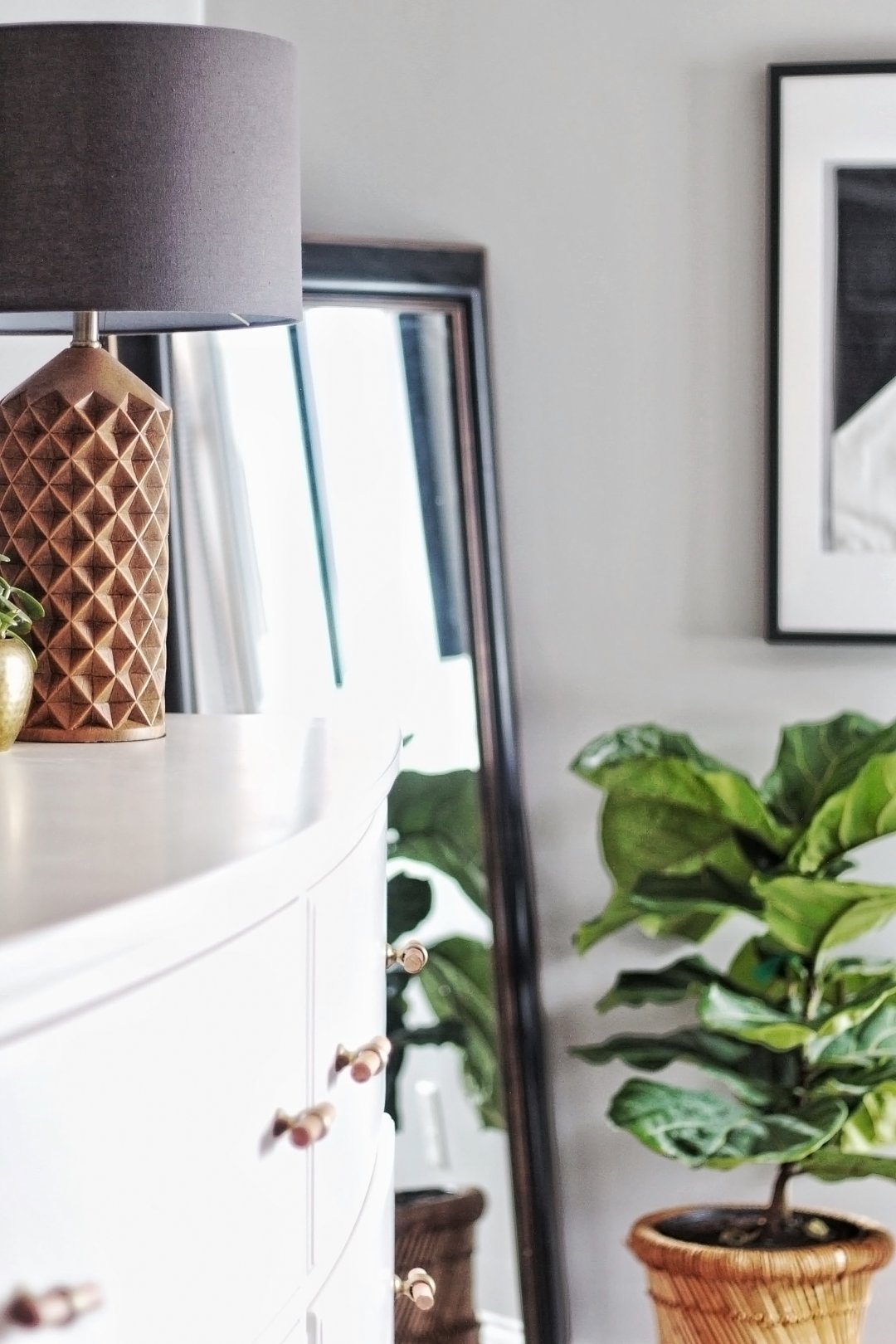 I purchased this really cool textured lamp and my brass cantilever lamp remained on my bed side.
Unfortunately, we are at the toddler stage with Kyle where no paper that is put down is safe from his scribbles 🙂
WINDOWS
The windows were dressed with new woven blinds with a slightly different texture than the previous ones and some cream colored, stitched edge curtain panels to finish off the look.
The walls were painted "Greige" and the closet doors remained the same gray color from before.
Unfortunately I lost my beautiful, big fiddle leaf over the summer, so I replaced it with a new one.
WALL DECOR
The contemporary looking wall art were a DIY and are actually framed place mats.
Super easy and affordable!
We've gotten so many compliments from guests who are just in awe of the quality and style of our new custom bed, and the furniture has been an answer to our prayers! We couldn't be more pleased! A BIG THANKS to Raymour and Flanigan for helping us complete another beautiful space to love!